| Item ID | Starting Bid | Bids | Current Bid |
| --- | --- | --- | --- |
| 64259 | $500.00 | 9 | $1,050.00 |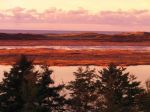 Dinner for six at the home of Watermark Founding Artistic Director, Duncan McIntosh and his partner, Premier Wade MacLauchlan!
Duncan and Wade love to cook and will prepare a four course meal in keeping with a "Zorro Miles Diet" which is to say: All food grown or harvested from places where their dog Zorro can wander in the course of a day. This includes oysters, clams, lobster, tuna and lots of other fresh fish from the bay. Salt watered grass-fed Island beef, chicken, turkey; lush Island greens; exotic mushrooms (in season); Island cheeses, berries and more.
Scheduled for a mutually convenient sunset and created to fit the successful bidders' palette.
Value: Priceless!
Thank you to Duncan McIntosh and Wade MacLauchlan